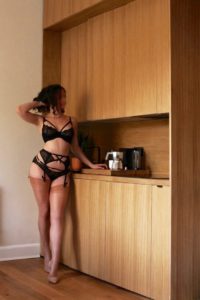 Oh, hello you…
I'm Eva – your all-natural brunette companion with refined curves, a quick wit, and a taste for adventure
Intuitive, passionate, and empathetic, my sensual approach is perfect for a genuine Girlfriend Experience. I like to take my time, immersing myself in the present and losing myself in our shared encounter. My open-minded and light-hearted attitude towards pleasure will put you instantly at ease.
Intelligent, well-spoken, and well-travelled, I am a poised and incisive dinner companion. Ever the inquiring mind, I take as much pleasure in a lively discussion over dinner or drinks, as I do an intimate tête-à-tête in the luxury of solitude.
In public, I am elegant, understated, and always discreet. I favour light makeup that showcases my striking features and youthful complexion, and you'll find me wearing stylish, casual attire that looks just as good in your favourite restaurant as it does strewn at the foot of the bed.
I am available for incalls and outcalls in Glasgow between 23rd August and 20th of September.
Measurements: 42 – 32 – 45
Age: Early-Mid twenties
Height: 5'9"
Bust: 34E
Hair: Mid-length; wavy; dark brown
Eyes: Blue
Dear gentleman,
I am so delighted that you found me. I am an exquisite little beauty wrapped in elegance, a kind and sweet girl just made to make you feel on top of the world.
I can be your sweet and caring prize at the end of a stressful week where my touch will melt your pains away or I can take charge and bring you to the brink of ecstasy and beyond, or anything in between. Let's share passion, smiles and laughs. I'll be your safe and loving companion to explore all aspects of your sexuality.
I can be your little secret or your trophy by your side. When you are with me, you are my sole focus and will always get my undivided attention and I promise you that I will bring you to the edge of heaven.
Can't wait to meet you.
Available in Soho, Covent Garden, Holborn, Marylebone and the City.
Gracie Kay – Passionate Lover and International companion
You will find a lovely selection of Scottish Escorts and Escorts working in Scotland on these pages. The Scottish courtesans have chosen to advertise their services on this premier escort advertising site.
Looking for escorts outside of Scotland, then try ukbelles. UKBelles lists independent escorts throughout the UK. They are a companion website which goes hand in hand with this site.
Are you visiting London, then have a look at the delightful list of Escorts in London.
News in Scottish escorting
3rd December 2020 Sex workers in Scotland demand greater protection
Sex workers in Scotland want greater protection and certainly do not want their clients criminalised, which is what the Scottish parliament are moving towards. Sex workers have accused the Government of adopting an out dated ideology. This comes after two women who describe themselves as "survivors of prostitution" addressed Holyrood's Cross Party Group on Sexual Exploitation, calling for buying sex to be made an offence.
Anastacia Ryan, the founder of Umbrella Lane and a lecturer on sex work and drugs policies, said ministers need to instead "prioritise safety, health and harm reduction". Despite leading the way on progressive measures in other areas of women's rights, the Government agenda on prostitution is driven by an outdated ideology and a harmful moralistic view that fails to reflect the realities of sex workers' lives and associated needs from services.
Read more of this on the Herald
24th November 2020 Sexworkers hold a vigil, demanding government stop moves to criminalise clients.
Scotpep, an Edinburgh based worker led charity has blasted proposals from the Scottish Government that could lead to men being banned from buying sex.
Using the slogan 'Not Equal, Not Safe', workers are gathering with candles and red roses on International Day to End Violence Against Women to warn that the Government is ignoring workers and evidence from other countries where the change has led to increased violence against workers.
Read the whole article in the Edinburgh News
10th December 2019 Local crime writer's generous donation to sex workers' charity SCOT-PEP
Peter Richie, a local crime writer has launched his latest Thriller. Maxine's Story and will donate a proportion of the profits to SCOT-PEP, the Edinburgh based charity dedicated to the promotion of sex workers' rights.
Read more in the Edinburgh Reporter
6th December 2019 Study shows a large number of people support sex work in Tayside and Fife
The poll carried out by Dundee Violence Against Women Alliance showed 51% agreed with or had no strong views on sex work. Over 60% agreed or had no strong views that men aged over 18 could go to strip clubs. Over half disagreed with making paying for sex illegal, and that adults watching pornography were not doing anything harmful. The respondents to the survey were mainly women (77%). This was not the result Ann Hamilton, chair of Dundee Violence Against Women Alliance wanted to hear. She was disappointed and launched into the usual mantra of "The acceptance of men's right to buy women." She really really should listen to sex workers and of course campaign for the reduction of poverty which does force some women into selling sexual favours.
4th June 2019 Glasgow could be the first in the UK to ban lap dancing clubs
Here we go again, banning lap dancing clubs. Glasgow is looking to set the number of Sexual Entertainment venues to zero, zilch, none. There is a consultation open until August 26th, asking the public's view on these clubs. The council is asking if there should be any or none at all. Presently there are 4 venues, Diamond Dolls, Forbidden, Platinum Lace and Seventh Heaven. Of course, there are those campaigning to have the number set to zero. Jan Macleod, of the Women's Support Project in Glasgow, said it wanted a limit of zero and for existing lap dancing clubs to be closed. Her views are these clubs put women at risk. This is absolutely untrue, and it has been proven many times that there is no increase in sexual violence in areas with lap dancing clubs. If anything the correlation is the opposite. This was shown by Brooke Magnanti who totally debunked the statistics from a similar campaign to shut down lap dancing clubs in London.
The consultation closes on Monday, 26 August
February 7th 2019
It is a year since Laura died. Since then there have been many events to commemorate her life. She even had her obituary on the BBC Last Word program, alongside the obituary of Billy Graham. This must be the first for a sex worker in the UK. Today there was a Twitter hashtag dedicated to her name #RememberingLauraLee where her friends thanked her for her life's work.
February 2018
It is with sadness that I must let you know about the sudden death of Laura Lee. She died on the 7th of February 2018. She lived and worked in Scotland and was a great campaigner of the rights of sex workers.
Laura Lee was a fighter, an activist, a friend, a mum and a pain in the Oireachtas arse, as well as Rhoda Grant
She went through so much; she was exposed, abused by the press and had her life turned upside down just so that she could fight for the decriminalisation of sex workers – a fight she never gave up on.
She was an advocate and would help anyone who asked for guidance and support.
Laura was one of the fiercest, but friendliest people I was ever lucky enough to meet. She loved to laugh and make jokes. She had such a way of making people feel at ease, even though we were all so much in awe of her.
Recommendations for trips abroad
If you are travelling to foreign parts on a business trip, stag event, or even on holiday, then I have some recommendations for top-notch Escort Agencies.
If you are visiting England then try out this agency VLondonEscorts. Again I must recommend them from experience. Looking for a classy London escort with a nice touch then check out Massage Escorts.
Can't find the escort of your desire, then take a look at this VIP Escort Directory for further choice.
Visiting Holland
Amsterdam Escorts
Are you Scottish lads and lasses visiting Amsterdam for a stag do or a hen party? Maybe you are there on business, or taking a break? Whatever your reason for visiting, then why not lookout for a beautiful escort to show you the sites. As a Tartan Ladies client, you are seeking a companion who is beautiful, warm and accommodating. Someone familiar with the city who can show you the delights of this vibrant city. What better than to find escorts at Beauty Escorts Amsterdam who are both beautiful and knowledgeable about their city. They will be able to take you to the sexy banana show, or the museum of prostitution. Their knowledge of the restaurants, bars and coffee shops is formidable. When all the historical sites have been seen, and you have been replenished, you can finish off with some sexy fun with your companion of the night. Oh, sorry I meant companions, you booked more than one!
What should you do when visiting the Amsterdam Red Light District? Well, there are of course the obvious choices, go and hire the services of an Amsterdam Escort. How do you do this? Walk beside the windows in the De Wallen area, taking note of the ladies displaying in the windows. When you find a suitable choice of an Escort Amsterdam, walk up to the window and politely indicate your interest in buying her services. They will open the door so you can discuss your requirements. Treat them with respect, don't shout, and if they turn down your business, don't get angry. They have the right to refuse. When you and the Escort Amsterdam have come to an agreement on services and price, they will let you in. The payment must be cash, so ensure you have enough with you. The prices start at 50 euro for a short basic service of 10-15 minutes from the escort. Longer appointments, with more complex fetishes and scenarios, will cost more.
As well as hiring the services of and escort, you can also take a tour behind the scenes of where the VIP Escort Amsterdam work. You would be delighted by the Bonton sex club behind the scenes tour. The tour takes place in a real sex club that is active and in use at night. The tour is hosted by a former Amsterdam Escorts who has worked in Amsterdam Brothels. As part of the tour, you will be shown around the individual rooms, where you have the chance of talking to some of the employees working there. Enjoy the Nuru Massage room with the slipup Nuru gel used to lubricate bodies as they slide over each other.
Add a museum to your trip like no other, visit the Museum of Prostitution and experience the delights of actually sitting in a window of the Red Light District. You can also take walking tours of the district. I would recommend the tours operated by the Prostitution Information Centre (PIC). PIC is an organisation that helps sex workers with all kinds of advice, they also visit the Amsterdam Escort daily, helping with taxes, housing, health and very much more. The guides providing the tours and knowledgeable about what they are talking about. They have either worked as escorts, are still working in the sex industry. The information they will provide will be from firsthand experience. The guides are also discreet and try not to interfere with the trade their compatriots are engaged in.
The Hague, Den Haag Escorts
Amsterdam is the city everyone has heard of, but what other cities which Holland has to offer. The Hague, on the coast, is somewhere worth a visit. Long sandy beaches with many cafes and bars to choose from. Lively nightclubs in De Zwarte with DJs pounding out electronic and underground beats. The numerous live music festivals with a thriving culture for locals and English speaking visitors. To help you navigate this thriving city you would do well to hire a Den Haag Escort for a tour of the city, followed by the city sins offered by the nightlife.
Those staying in the city centre have a treat. There are 68 different shopping areas in Den Haag. You will need the help of Top Escort Den Haag to make the most of your time. Like most cities, there is a China Town which houses Chinese food shops and restaurants. The area is not exclusively Chines, there are outlets from Japan and Indonesia. The area became Chinatown because it was a poor area, and the Chinese flourished. It partly flourished because many prostitutes worked nearby, and they patronised the restaurants late at night.
Rotterdam Escorts
I have always known of Rotterdam from its port, the largest Port in Europe. Do not let the port put you off from coming to this city. This city has so much more to offer the visitor. The night clubs, museums and hotels have so much to offer. The architecture of modern buildings is excellent. This is exemplified by the indoor Market hall, an area full of fresh fish, meat, and delicatessens. Let your personal Escort Rotterdam show you around this festival of food. Buy your food for the evening and entertain your guide to some delicious food while you stay in one of Rotterdam's famous Cube Houses.