Are you an Escort working in Scotland? Free listing for Scotland- based independent ladies with a web site!
If you are an independent escort permanently based in Scotland, all you need is a web site with a link back to us. You will be advertised on here for free in one area with a large advertisement.
Escorts with a website
If you are an escort permanently based in Scotland, to get yourself listed, just send a good, clear portrait style picture, your web site link, and what area you would like to appear in (one area only for free listings) to admin@tartanladies.com only AFTER placing a link to us on the home page or first page of your web site. A selection of banners you can use is at the bottom of this page.
We will only list you once you are linking correctly to us, and you must maintain your link to us for as long as you want to advertise here.
Featured Listing, listing in multiple areas, touring escorts
If you're new to escorting in Scotland, touring Scotland, or want to be listed in multiple areas, or just want to give yourself an extra boost, consider becoming one of our featured escorts.  A featured escort is listed on the front page, and you can list in multiple areas, and advertise your tours. To advertise your tours, email me the tour dates. I will update them a couple of times a month.
Escorts without a website can advertise on Tartanladies by taking a featured listing.
Prices for featured advertisement
1 Month £20
3 Months £40
1 Year £100
Please email me at admin@tartanladies.com to set up your feature and arrange payment. A receipt for your expenses will always be provided.
Listings for Adultwork Members
Adultwork Members with a profile located in Scotland, who are female, verified and have allowed their profile to be shown on third party sites are automatically listed with a small advertisement. This is the smaller sized advertisement at the bottom of the page. Up to 100 escorts are shown.
Adultwork members can take the opportunity to take a featured escort profile which will be listed in multiple areas (please tell me which areas), and will be listed amongst the featured escorts.
No website
Click here for details on having your own web page from just £100, and then £40 per year afterwards, which as well as allowing you to list free on tartanladies.com will also allow you to advertise on many other escort directories. If you still don't want a website, then I will list you as a featured escort. Please see featured escort listings.
Link exchanges, Scottish Escort Agencies, massage parlours and other directories.
If you are an agency employing escorts in Scotland, then please email me for an escort agency listing.  Escort agency listings are available for a one time charge of £50.  No link back is required from your site. This link will be a no-follow link.
Please email me at admin@tartanladies.com to set up your feature and arrange payment. A receipt for your expenses can always be provided.
Our Banners
Please choose one of the following banners for your web site, and direct it to https://www.tartanladies.com
Or if you prefer, a highlighted/ bold text link (front page links only) stating Directory of Escorts in Scotland is just as good!
NB. Please DO NOT resize the banners- the words become unintelligible. Please choose a different banner instead!

Link Code
<a href="https://www.tartanladies.com" alt="Scottish Escort Directory"><img src="https://www.tartanladies.com/files/2012/01/tartanladieslarge.png" title="Directory of Escorts in Scotland"></a>

Link Code
<a href="https://www.tartanladies.com" alt="Scottish Escort Directory"><img src="https://www.tartanladies.com/files/2012/01/tartanladies300.png" title="Directory of Escorts in Scotland"></a>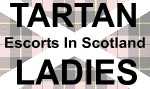 Link Code
<a href="https://www.tartanladies.com" alt="Scottish Escort Directory"><img src="https://www.tartanladies.com/files/2012/01/tartanladiessmall.png" title="Directory of Escorts in Scotland"></a>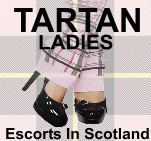 Link Code
<a href="https://www.tartanladies.com" alt="Scottish Escort Directory"><img src="https://www.tartanladies.com/files/2012/01/tartanladiesmedium.png" title="Directory of Escorts in Scotland"></a>