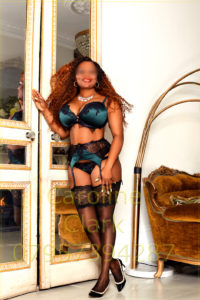 Welcome to my digital realm, where wandering souls find themselves enchanted by a serendipitous encounter. I'm thrilled by your presence and eager to introduce myself as Caroline—a captivating ebony muse poised to orchestrate a symphony of shared desires. Allow me to weave a tapestry of revelations about who I am.
Radiant allure and intellect define me—a sunbeam of playfulness and tenderness. My mind, illuminated by a Master's wisdom, dances like a firefly on a summer's night. Beyond this gentle façade lies a friend, a confidant, who wears her heart openly. Amid moonlit conversations and stolen glances, I embody the dreams of seekers—a hidden haven where joy intertwines with longing, untouched by shadows.
Imagine an evening painted with your desires, candlelight illuminating our discourse—a dinner date traversing time and flavors, guided by a presence that lingers. A trove of moments awaits.
Whimsy's winds carry me to Scotland's shores, England's lanes, the enigma of the Isle of Man, and every corner of the United Kingdom. Consult my travel map; perhaps our stars align there. If distance aches, a call may pave the path to your haven. When I'm home, find me at Motherwell Town Centre, a tranquil haven near the train station.
Marvels await should you beckon me to your side. My essence unfurls in our desires, casting a boundless spell. Beyond travels, I bear whispered secrets—I'm your comet of companionship, gracing your world with radiance. Journeys require tokens of affection; I bring mine on the voyage to your arms.
So, if destiny and stars align, let geography not dim our ardor. Whisper wishes, take my hand, and let the cosmos spin a tale only entwined hearts fathom.